BRYANT JR. is that singer/entertainer that will put you in the mood when you're with that special someone. Just like the late great LUTHUR VANDROSS, TEDDY PENDEGRASS, EDDIE KINDRICKS and CURTIS MAYFIELD, he will sat the mood with mello sounds of a trained veteran crooner.
BRYANT JR. comes from a time and place where it was the norm to put on quality shows that had the audience begging for more everytime.
"I WISH YOU WERE HERE" BRYANT JR.'s last CD on the RUEL ENTERTAINMENT, put the right touches on the social issues as well as a pinch of romance in a complete package. People are downloading it by each week all over the world anticipating the next CD release by BRYANT JR.
BRYANT JR. JOINS BRYANTS
BRYANT JR. and BRYANTS has joined forces and are gearing up for the first CD release by BRYANTS.
Although BRYANT JR. will continue on his solo career, BRYANTS is joined by members of EN GOOD TASTE, ALTERED EGO, THEDA and other guest artist. They are a full band alone with 4 piece horn section and background singers that not only put on a show but also take you back in time to when the original artist were at their peaks.
Acts like, THE TEMPTATIONS, EARTH WIND & FIRE, SMOKEY ROBINSON AND THE MIRICLES, THE SUPREMES, THE JACKSONS, LUTHUR VANDROSS and more.

CLICK ON PICTURE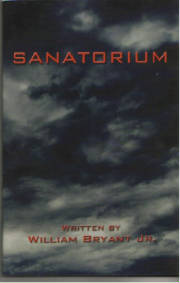 SANATORIUM ON SALE AT AMAZON.COM
BRYANT JR. HAS ALSO WRITTEN THREE BOOKS
The first book is a Sci-fi; SANATORIUM, the second book is titled SERUM, and the third one is a poetry book titled LOVE DEFINED.